We were called to bring the good news of Jesus Christ to people in their living rooms - how it all began...
A couple of years ago we heard about a music video competition on the American channels TBN and JCTV. At stage we were dreaming about reaching a whole community through the medium of television. Although we had very little confidence, we did feel the urging of the Holy Spirit and filmed a video clip with our small video camera which we sent off to the United States. To our utmost surprise our entry won! We were blessed with a cruise to the Bahamas, a new video camera and our program "Alive!" on local television took off!


Another award winning video:

Powered by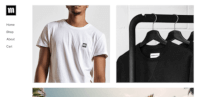 Create your own unique website with customizable templates.